About Koan
Koan is a true hip hop emcee that hails from the depths of New Orleans lower 9th ward. Musically inclined from a young age and verse in many instruments. Koan began playing the saxophone at the tender age of 6. By age 11, his  talents gained him acceptance into the "All-City Band" and his diligence and love for music landed him the covenant position of section leader. Throughout his teenage years, Koan mastered the trumpet and developed a love affair with words, scribing beautiful stanzas of intricate metaphors and similes. After high school he decided to blend the two arts and began incorporating his poetry into raps.

Attacking the skills of lyricist, he gained local street credit with his crew The Daily Bread Unit as one of New Orleans' fearless battle rappers. Music and rapping came easy to Koan. It wasn't until a moment of clarity on stage at a Hieroglyphics Concert did he realize that on the stage holding the mic is where he was meant to be. 
         
Koan began performing with the talented E.O.E in 2004. What started as a guest appearance quickly turned into a regular occurrence by way of audience demand. By 2005 he was added as a permanent member of the band and began to incorporate hip hop into their worldly diversified sound. After being homeless and displaced after Katrina they recorded their album "Fortune and Circumstance" in 2006 and tour heavily around the country. In August 2007, E.O.E. officially moved back home to New Orleans and continued to tour. Koan and the other members of E.O.E. celebrated the return home with a sold out show at the world renowned Tipitina's. Received with arms wide open; garnering features in all of the major publications in New Orleans, including a feature in Where Y'at Magazine's coveted" Ones to Watch". Koan and E.O.E. went on to win six of Gambit's and Where Y'at "Best of New Orleans" awards in 2008 including "Best Live Show" , "Best New Band" and "Best Hip Hop Act". Also winners of "Best Hip Hop" 09' and 10'. Koan has performed at a host of festivals and venues throughout the U.S. and U.S. Virgin Island, including the N.O. Jazz Fest, French Quarter Fest, Funk Fest(PA), Sullivan Hall (NY) just to name a few. To date Koan and E.O.E has successfully completed 16 tours covering 80,000 miles in 50+ cities.

After making a name for himself and gaining performance expereince, Koan branched out to as a solo artist. He hooked up with producer Sean C and created his first solo album "Chronicles of A Dying Breed". It was released in April 2011, under his own label Daily Bread Productions LLC. The album sparked an immense response from both industry folk and the public at large; quote from a 2011 article by "Offbeat Magazine", "Chronicles of a Dying Breed is well sequenced, so those lighters tunes break the seriousness of Koan's subject matter, offering a complete album that's playable from beginning to end. If we are all lucky, Koan's part of a breed of MC that's never going away".  Chronicles' singles and videos were featured on blogs and online radio and college radio across the world. Koan was blessed to have the opportunity to open up for some of the more well know indie hip-hop acts  including Immortal Technique, Killa Mike, Killa Priest and Doomtree. He also headlined several shows including his album release at the world famous "Tipitina's" in New Orleans.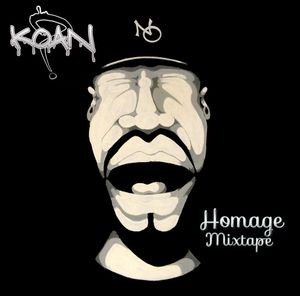 In 2012 Koan began his next venture "Homage". It's an ode to the pioneers of modern hip hop music. Koan does his rendition of the classics tracks of some of today's hip hop gods. In Feb of 2013 he dropped it's  first single "Whateva", where he takes on Redman's classic "Whateva Man". Koan's next release "Til Infinity" was released in March of 2013. In spirit of "93 til infinity" by Souls of Mischief, Koan's version marked his first debut on a clear channel radio program. He is currently finishing up the album set to be release in the third quarter of 2013. 

Koan is also garnering press from his song "Shell Shocked' from the documentary Shell Shocked by John Richie. It's a film about gun violence that is plaguing our African American youth and the organizations that are working to change this cycle of violence. The documentary is being shown in film fest across the country and receiving a positive responses.
In 2016 Koan introduced the world to his new band My Theme Music. They made their debut at Tipitina's in New Orleans.